Past Programs and Events

Ethics in International Relations is a two-day event that includes forums, presentations and a workshop-symposium that gathers an international group of the leading scholars in this field. They assess how ethics matters in International Relations and how can we talk about ethics in an increasingly complex and uncertain world. These scholars determine the major research topics and fields that constitute this study, assess what draws them to study Ethics to as a subject, discuss how they teach it and engage it in their courses and research, and how they reach out to their broader communities about the themes of Ethics in International Relations. It is sponsored by the generous support of the Tanner Center for Nonviolent Human Rights Advocacy, the College of Social and Behavioral Sciences, and the Francis D. Wormuth Presidential Chair.



The Tanner Center for Human Rights proudly co-sponsors
An Evening with Jane Goodall

April 24, 2015
An evening with world-renowned primatologist and conservationist, Dr. Jane Goodall, United Nations Messenger of Peace, founder of the Jane Goodall Institute and Roots and Shoots. Presented by the University of Utah's College of Humanities in partnership with the Environmental Humanities Graduate Program and Pax Natura Foundation.
Click HERE for more information
__________________________________________________________________________________________________________________________________________________
A Tanner Center event helping the Sociology Department with their scholarship fundraiser - a great event!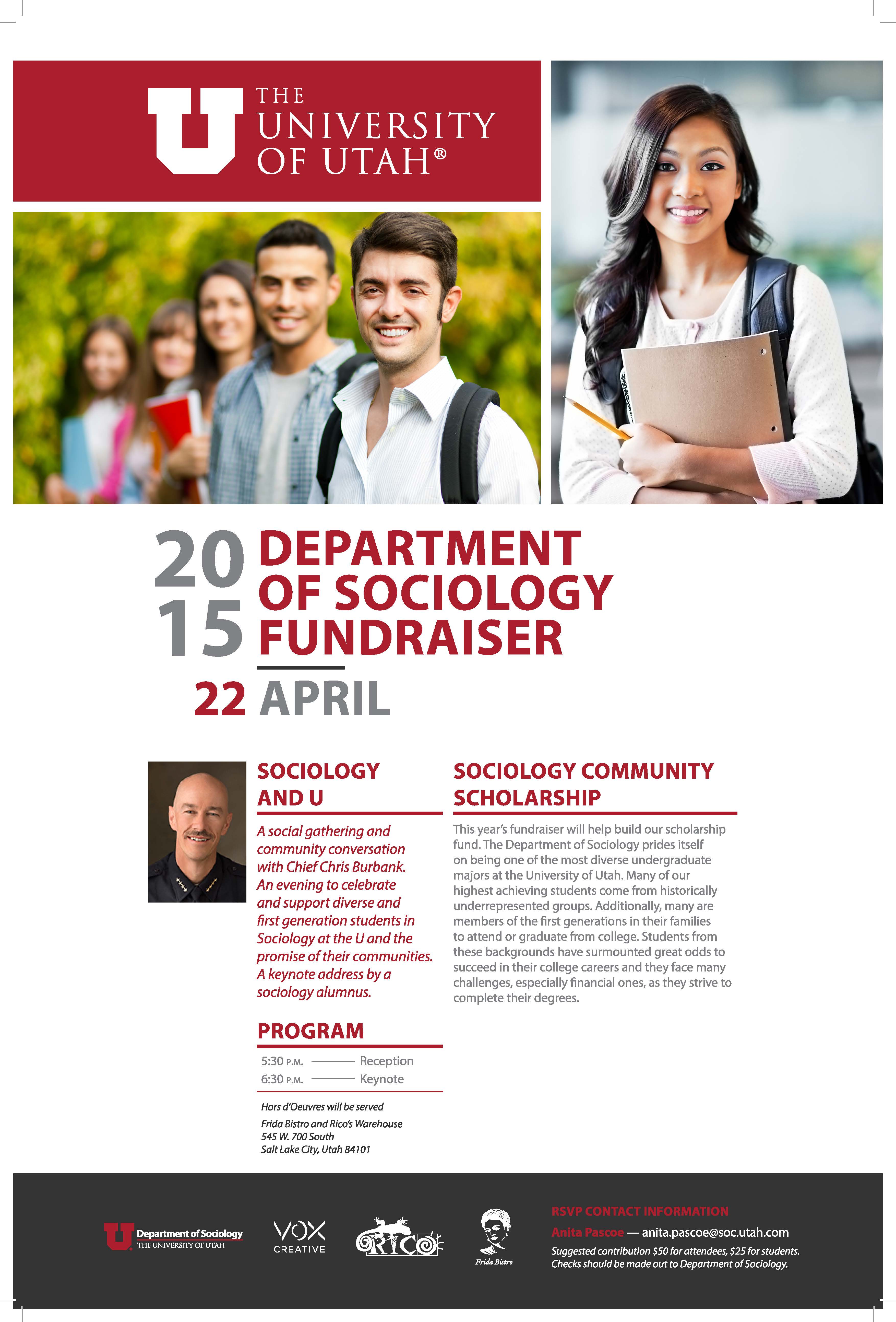 Kings English Bookshop
1511 South 1500 East, Salt Lake City, UT 84105
Friday, November 14, 2014
In Their Own Words: The Military Veteran Experience: Military veterans and family members will share their experiences of serving in the military and life since leaving the military, as expressed through writing. Military personnel, veterans, and families will be invited to read and then discuss their written work with the audience. Military personnel, veterans, and family members from all eras will be invited to participate.
DISCUSSION LEADER and CONTRIBUTOR: Maximilian Werner, Assistant Professor, Department of Writing and Rhetoric, University of Utah
RELATED TEXTS:
The Things They Carried by Tim O'Brien
War by Sebastion Junger
Rule Number Two: Lessons I Learned in a Combat Hospital by Heidi Kraft
Band of Sisters: American Women at War in Iraq by Kirsten Holmstedt
Where Men Win Glory by Jon Krakauer
Lone Survivor by Marcus Luttrell
Exploring Humanitarian Law Workshop
June 12, 2014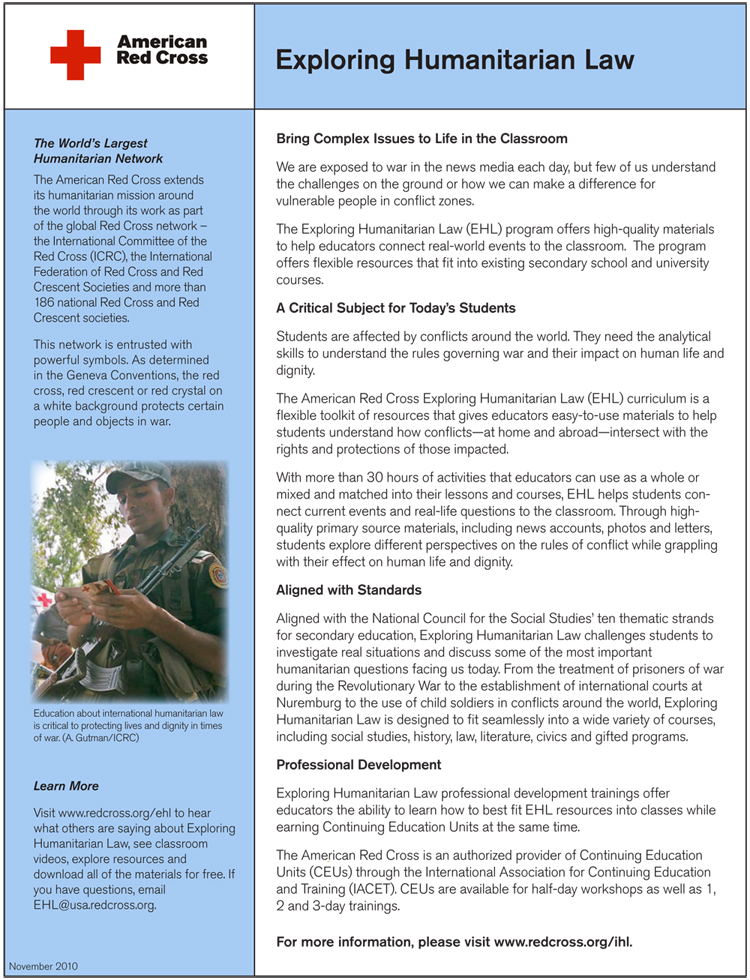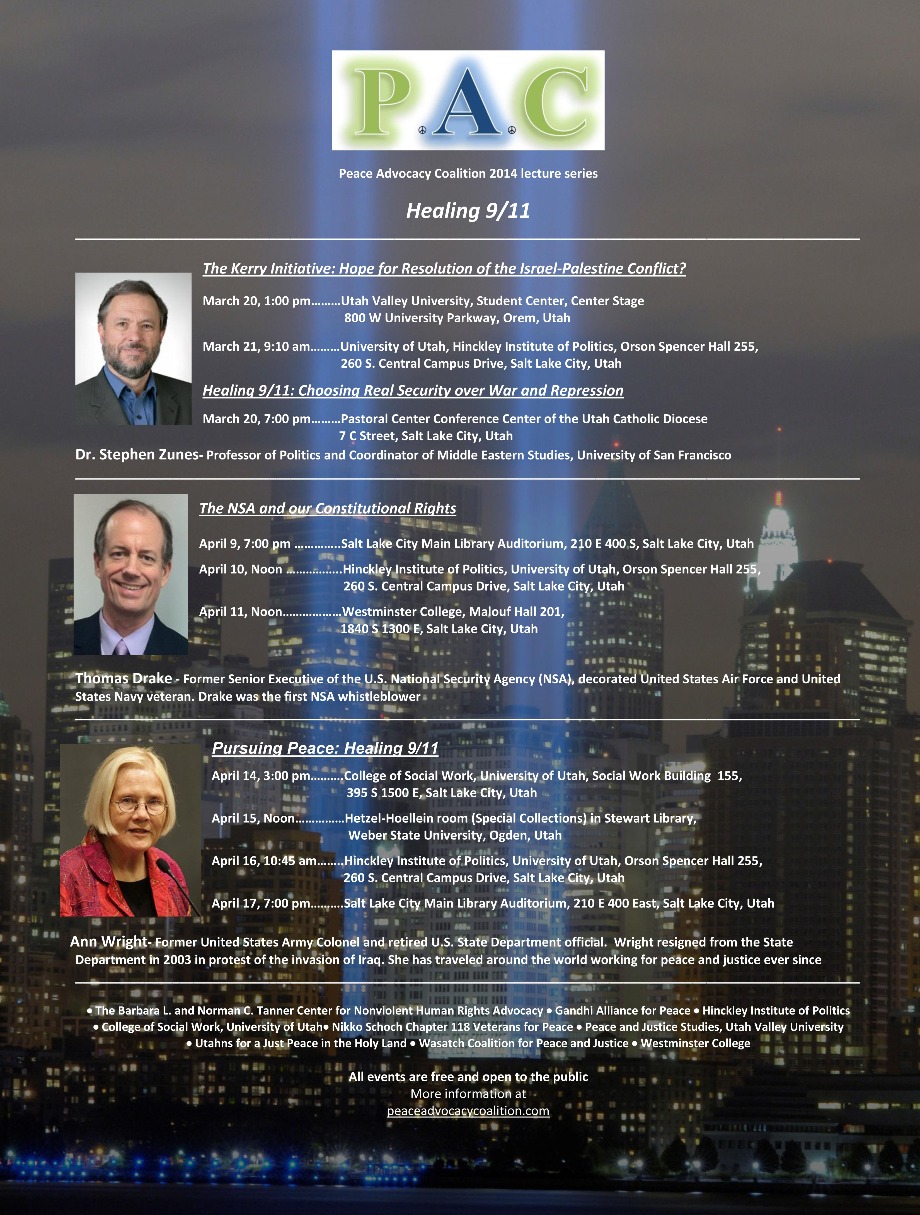 May 3, 2014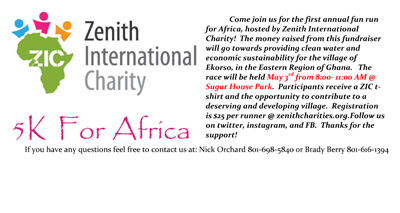 February 28, 2014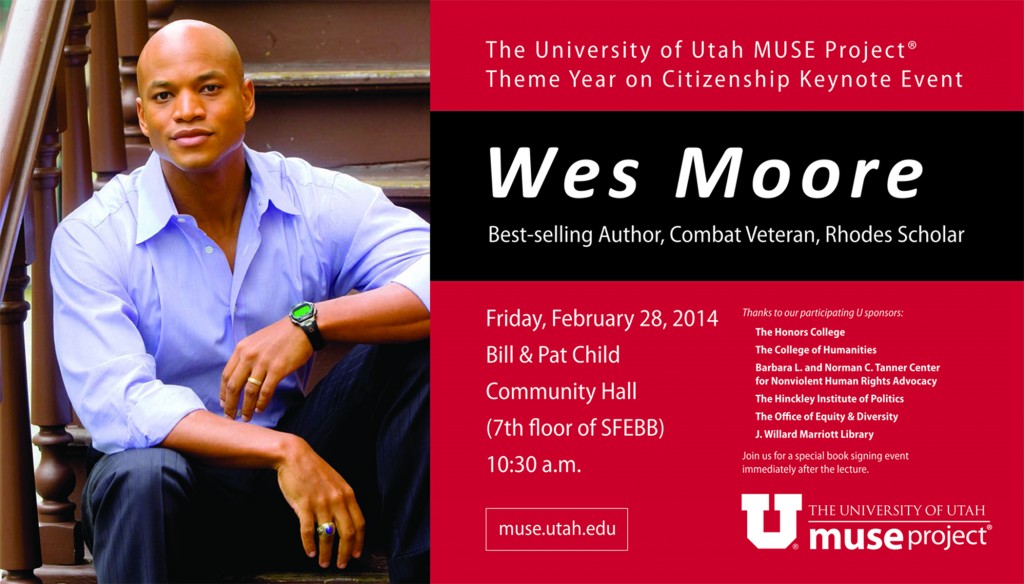 FaceTime with U
Building Peace in the 21st Century: Global Ethical Dialogues
To see the full agenda for the conference click here >>
February 18, 2014
The Tanner Human Rights Center along with the Utah Film Center & Downtown Library announce the Film Screening- Inequality for All. Followed by a discussion panel with film director, Jacob Kornbluth. Visit http://www.utahfilmcenter.org/event/inequality/ for a trailer of the film and more information.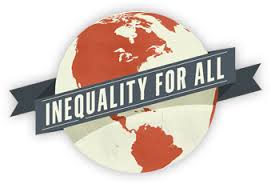 February 19 & 20, 2014
In collaboration with the Carnegie Council for Ethics in International Affairs, the Tanner Human Rights Center will examine new challenges to peace in the early 21st century—challenges that would not have been clearly envisioned 100 years ago when Carnegie's philanthropies were established. Three such challenges that we propose to explore are environmental degradation and its impact on international relations, violence by non-state actors, and global economic inequality. Our purpose is not just to document these challenges but to examine how new forms of global ethical dialogue and interaction can lead us to effective non-violent responses to these challenges.
To see the full agenda for the conference click here >>
February 5, 2014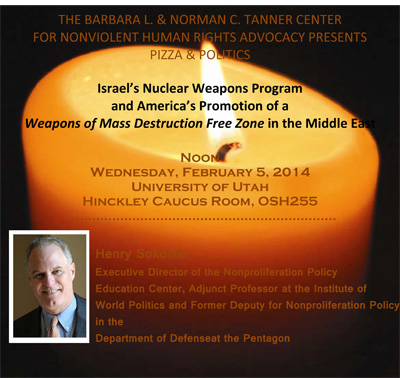 February 18, 2014
The Tanner Human Rights Center along with the Utah Film Center & Downtown Library announce the Film Screening- Inequality for All. Followed by a discussion panel with film director, Jacob Kornbluth. Visit http://inequalityforall.com/ for a trailer of the film.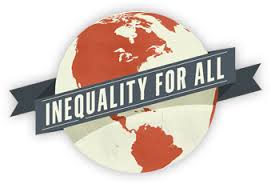 Event audio and video recordings are found at the bottom of the page.
---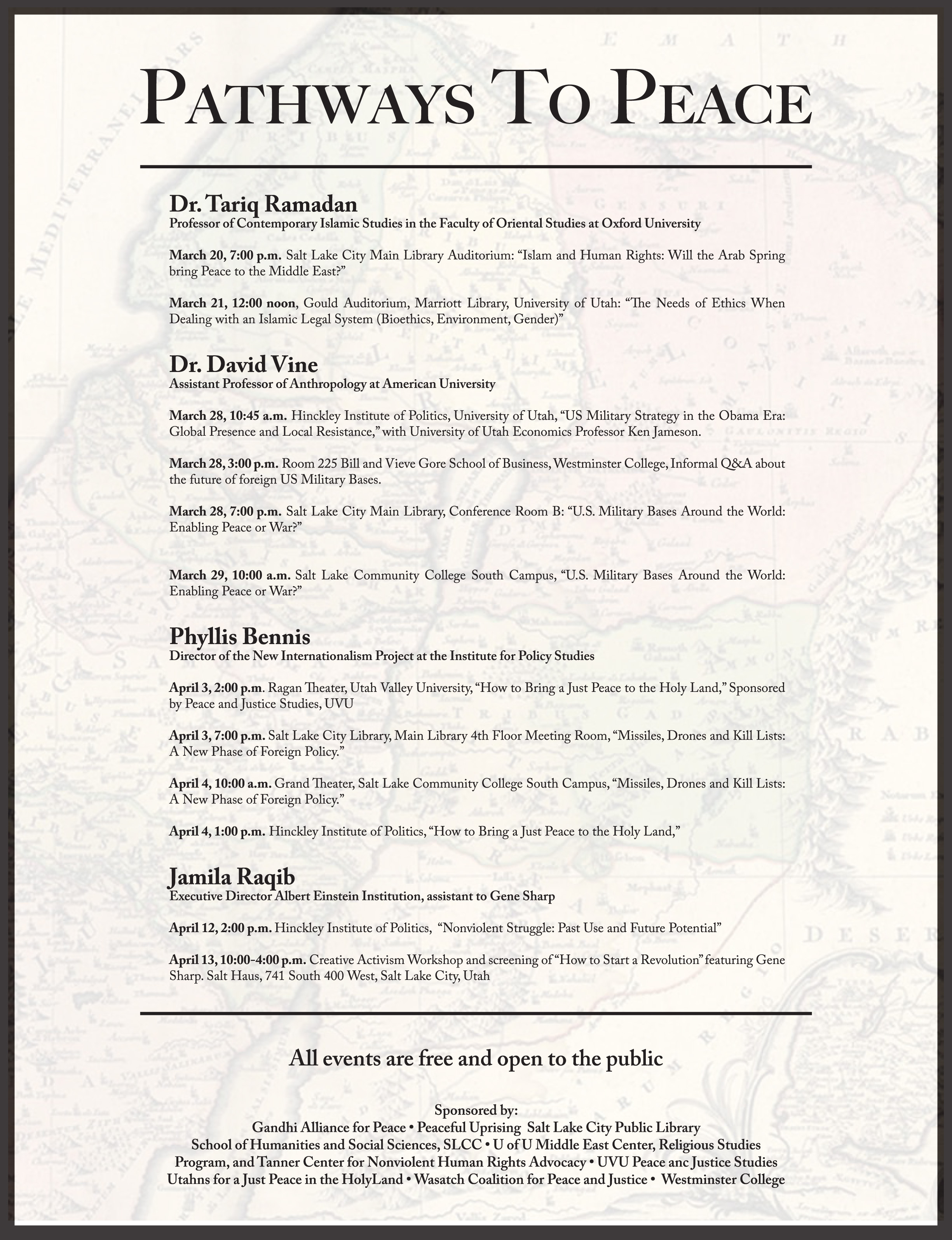 Audio recording of Tariq Ramadan
March 20, 2013

Salt Lake City Main Library Auditorium
Islam and Human Rights: Will the Arab Spring bring Peace to the Middle East?
Video of Tariq Ramadan Lecture
March 21, 2013
Marriott Library, University of Utah
The Needs of Ethics When Dealing with an Islamic Legal System (Bioethics, Environment, Gender)
Audio recording of Jamila Raqib
April 12, 2013
Hinckley Institute of Politics
Nonviolent Struggle: Past Use and Future Potential
---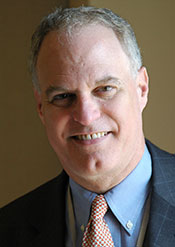 Henry D. Sokolski, Executive Director of the Nonproliferation Policy Education Center, Adjunct Professor at the Institute of World Politics, and Former Deputy for the Nonproliferation Policy in the Department of Defense at the Pentagon speaks on strategic nuclear trends and what we can expect over the next 10 to 20 years. For more information about Henry and NPEC visit:http://www.npolicy.org- external link View the video of the lecture here- external link.
In spring 2009, we co-sponsored the World Leaders Forum (with the Tanner Humanities Center) for an address by Cesar Gaviria, former president of Colombia and secretary general of the Organization of American States (OAS). Gaviria has been a staunch advocate for democracy in Latin America as well as a steadfast proponent of human rights and economic reform. As president of Colombia (1990-94), he promoted constitutional reform, the reintegration of armed rebels into civil society and significant economic growth. In his decade as secretary general of the OAS (1994-2004), he used his considerable skills as a conflict mediator to ease tensions across Latin America, initiated institutional change to reinvigorate the organization's inter-American agenda and fostered regional integration.
During the same semester, also co-sponsored (with the College of Humanities) a talk by Wangari Maathai, winner of the 2004 Nobel Peace Prize. Maathai was the first woman in East and Central Africa to earn a doctorate degree. It was while she served in the National Council of Women that she introduced the idea of planting trees with the people in 1976 and continued to develop it into a broad-based, grassroots organization whose main focus is the planting of trees with women groups in order to conserve the environment and improve their quality of life. However, through the Green Belt Movement she has assisted women in planting more than 20 million trees on their farms and on schools and church compounds. In 1986, the Movement established a Pan African Green Belt Network and has exposed over 40 individuals from other African countries to the approach. Some of these individuals have established similar tree planting initiatives in their own countries or they use some of the Green Belt Movement methods to improve their efforts. Wangari Maathai is internationally recognized for her persistent struggle for democracy, human rights and environmental conservation. She has addressed the UN on several occasions and spoke on behalf of women at special sessions of the General Assembly for the five-year review of the earth summit.
We are currently exploring partnerships with an array of organizations in the Salt Lake community to create forums on topics such as the future of nuclear weapons.