Amnesty International Write for Rights 2019
Amnesty International Write for Rights 2019
Write for Rights is the world's largest human rights letter writing event. Every year in December, hundreds of thousands of people worldwide write letters on behalf of prisoners of conscience, human rights defenders and others at risk of human rights violations.
This year we're throwing our might behind the children and young people who are firefighting some of the world's biggest crises. Many have stepped in where adults have failed to lead, and are facing terrible danger as a result. Your words really can change their lives.
Amnesty International and the Tanner Center for Human Rights will host two Write for Rights events for students, staff, and the broader community on the University of Utah campus. Stop by and write a letter, and enjoy lunch on us.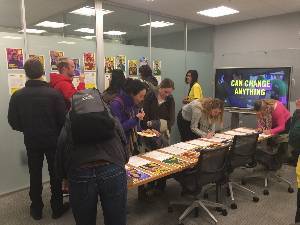 Two Great Options
Wednesday, December 11th Health Sciences Library 11:30AM – 1:15PM
Thursday, December 12th Hinckley Institute of Politics 11:30AM – 1:15PM