Scholarships

Support Student Participation in the Oxford Human Rights Consortium
Last year, the Tanner Human Rights Center, in collaboration with Office for Global Engagement, the Honors College, the Center for Global Justice at the S.J. Quinney College of Law, and the Daniels Fund Ethics Initiative at the David Eccles School of Business, selected and sponsored University of Utah students to participate in the Oxford Human Rights Consortium. Through this program, our students, along with students from several other universities, spent a week in residence at Oxford University, meeting with and hearing from leading scholars and practitioners in the field of human rights and examining the most pressing human rights challenges facing our world. This is a unique opportunity which has a tremendous impact on participants. You can learn more about the March 2015 program and hear from the participants themselves at http://global.utah.edu/global-resources/oxford-human-rights.php
This year, the program is expanding from one to two sessions – a one week session in March on "Human Rights In and After Conflict, " and a 10-day session in June and July on "Religion, Human Rights, and Conflict." The June session will include an optional follow-up workshop in Belfast, Northern Ireland.
The cost of this program is $1700 plus airfare for the March session and $2100 plus airfare for the June/July session (with an additional fee of $400 for the Belfast workshop). We would like to provide three to five students with full sponsorship for these programs this year, and we would also like to create a fund to support future participants. Please consider a tax deductible gift to the Tanner Human Rights Center of $500, $1000, or whatever you can afford, and note on your contribution that you intend to support the Oxford Human Rights Consortium program. Thanks in advance for your generosity. To donate CLICK HERE.
________________________________________________________________________________________________________________________________________________________
2014 Scholarship Recipient, Amber Ann Hesleph
In February 2014, the Tanner Human Rights Center at the University of Utah hosted a conference in collaboration with the Carnegie Council for Ethics in International Affairs which examined new challenges to peace in the early 21st century. Our purpose was not just to document these challenges but to examine how new forms of global ethical dialogue and interaction can lead us to effective non-violent responses to these challenges.
In his keynote address at the Tanner Human Rights Center conference, Jean-Marc Coicaud, Professor of Law and Global Affairs at Rutgers University, said that "War within is prone to go hand in hand with war with others… When one is at war with himself or herself, when one does not like or accept who he or she is, chances are that one will be at war with others, that his or her relationships with others will be colored by tensions and conflicts." How does conflict within one's self increase the likelihood of violence in the world? How can we cultivate values, emotions, and habits of peace every day in our daily lives as citizens in order to reduce the level of violent conflict in the world?
View her winning essay titled Internally Preventing an External War here. Great job Amber!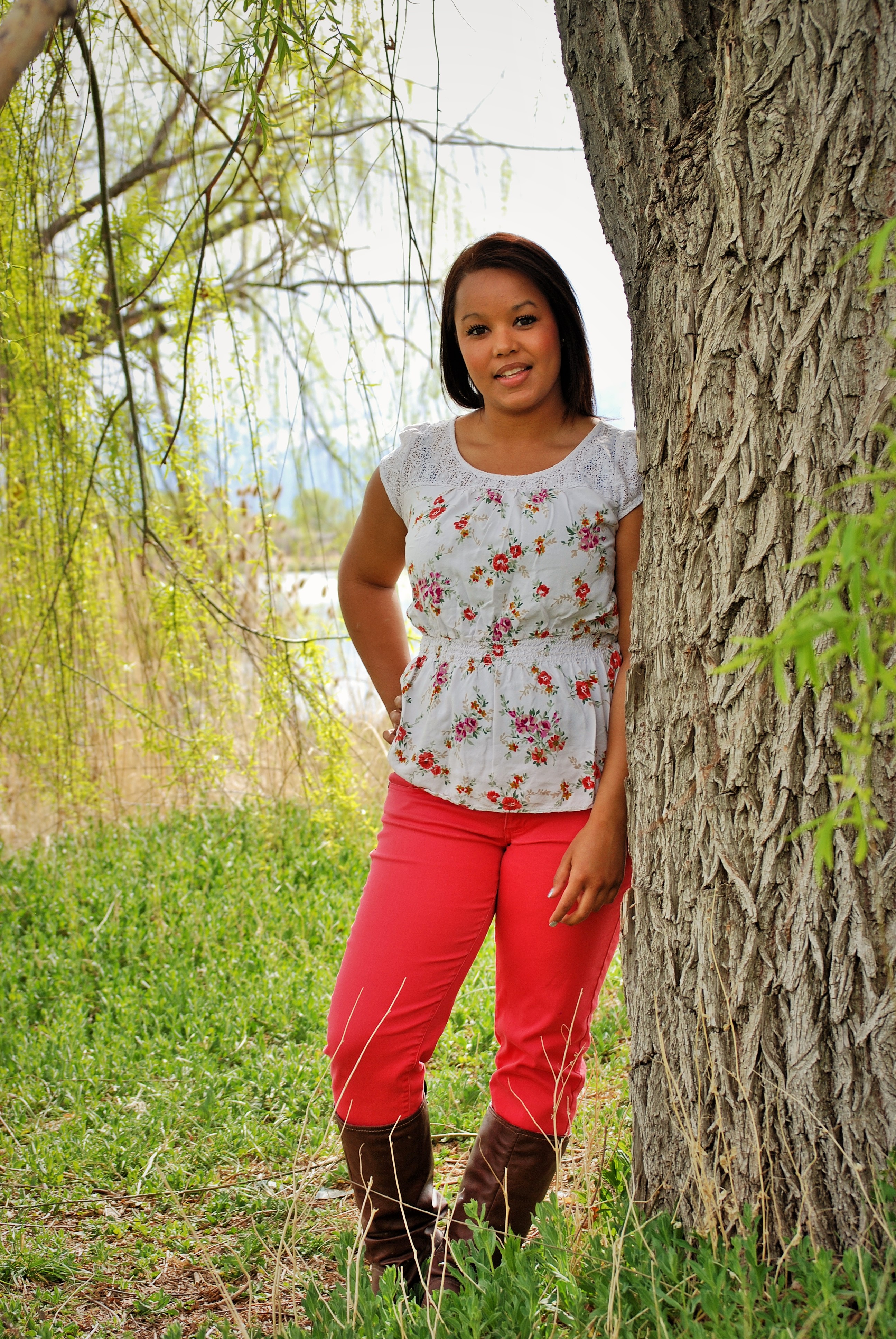 Amber Ann Hesleph
2013 Scholarship Recipient, Ariana Trevizo
Last Spring, the Tanner Human Rights Center at the University of Utah held a conference exploring religion as a source of conflict in our world as well as the efforts of religious people and religious communities to promote peacebuilding. Each year the Tanner Center holds a scholarship essay competition for students entering the University of Utah in Fall. The Tanner Human Rights Center Scholarship is sponsored by the College of Social and Behavioral Science. The scholarship is awarded through an essay competition for an incoming in-state freshman to the University of Utah. Stay tuned for information regarding our 2014 Scholarship.
Congratulations to our scholarship winner, Ariana Trevizo! Ariana will be attending the University of Utah this Fall. She won the scholarship for writing an essay titled: Religious Differences or Religious Similarities?
View her winning essay here. Well done Ariana!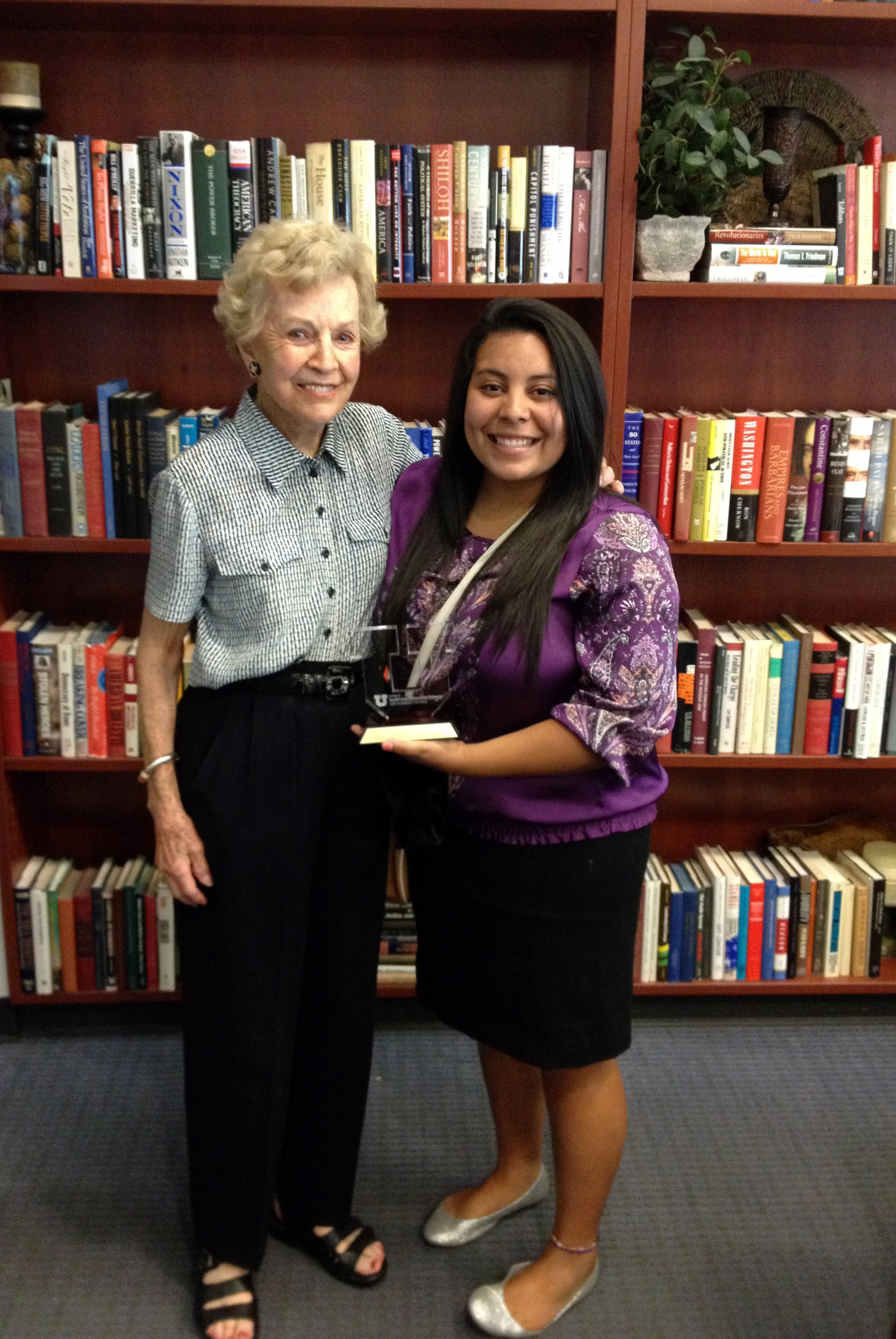 Barbara Tanner with Ariana Trevizo
2012 Scholarship Recipient, Sarah Mann
Sarah Mann, the winner of our 2012 Scholarship award, wrote a beautiful essay titled Culture Change which she hopes will help change the way society addresses cyber bullying. View her winning essay here. Congratulations Sarah!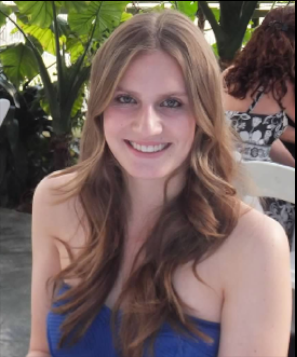 Sarah Mann